Your soul is the indelible individual part of you that consists of your character thoughts and feelings.
At besoul we bring our passion to creating a memorial event that captures that essence of a person. Were they a gentle soul? Were they the life and soul of the party? We want to bring the energy of your loved ones life and weave it into the service, for your family and friends to enjoy that spirit as they say goodbye and remember a life, lived.
Visit our new, purpose built, modern facilities in Warkworth
From the outset, we wanted besoul to be somewhere that you could make your own.  All of our spaces have been designed to enable quiet reflection or sharing of stories and memories with family and friends.
Our location, in Warkworth, means we are a funeral home that can be there for families in Orewa and the Hibiscus Coast, throughout Rodney, and up to Mangawhai or Whangarei. We strive to accommodate where we can.
Our logo is the ensō from a practice of Japanese ink painting, usually drawn with one stroke, once drawn it is not changed. They can be drawn open or closed. When the circle is closed, it represents perfection or completeness. We like the synergies of the enso to life, it can't be changed and when complete, the beauty of the imperfections are celebrated and enjoyed by those left behind.
Dean, originally from Iowa trained in the United States 25 years ago and moved to Warkworth 15 years ago.  Since then he has lived and worked in Warkworth and Mangawhai, returning here with his wife Karina and two children Louie and Lilah. 
Dean appreciates the welcoming nature of people in a small town which is the same culture that he grew up with.  Supporting people through the process of organising a funeral he has seen the likeness in people from all cultures in the need to be able to say goodbye to a loved one and the difference it makes when they have the right information at the right times to help them create the service that they need to start the healing process. 
Through besoul he wants to inspire people in how they remember and celebrate the life of their loved ones.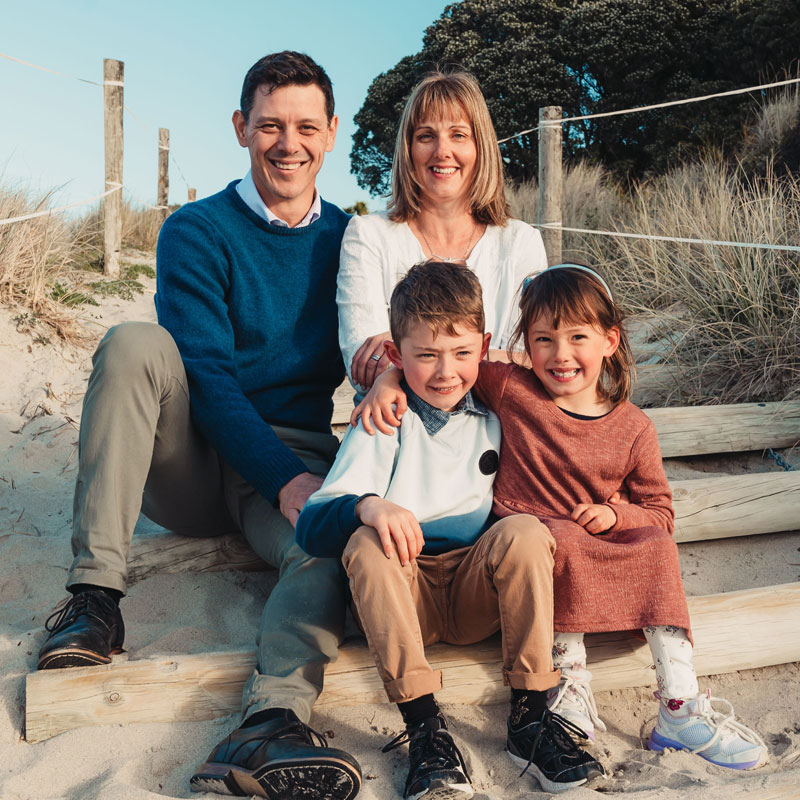 "I have had the pleasure working with Dean over many years in my capacity as a Celebrant. More recently as Dean is now the proud director of Besoul Funerals. He is a true professional in providing excellent advice combined with sincere sympathy under very difficult circumstances for the family of their departed loved one. He is thorough in detail, kind, passionate in his work and always you are left with a feeling of satisfaction that the upmost respect was achieved."
– John Phillis
"My wife had worked with Dean on at least three funerals with different relatives passing over the years and had been impressed not only with his professionalism but his personality. When she was diagnosed with  terminal cancer and her time was drawing near there was no question she would choose Dean for her own service.
Jude was adamant her service would not be a boring, morbid affair but a quirky bright celebration of life incorporating as much humour as possible. Far from the ordinary.
Jude and I met with Dean a couple of months before her passing to discuss her plans.  His immediate response to all requests was yes, we can do that, even if he wasn't completly sure how at the time.
After her passing Dean was nothing but completely respectful of Jude and the family and was inclusive of everyone present. Communication was clear so everyone knew what was going on at all times. Jude had requested for the Magnolia room to be decorated. This was of course no problem and Dean was more than willing to allow Jude's friends and work colleagues access to do this.
Jude had a large funeral, something close to 400 people. While the Magnolia room couldn't quite accomodate this number there was ample standing room under the covered porch that everyone could be a part of the service.

The service went off flawlessly. Dean's composition of service sheets and arrangment of the music and photo slideshow was exactly as requested.

I personally thank Dean for his part in Jude's funeral and would recommend Besoul without hesitation for anyone facing the loss of a loved one."
– Bryce
At besoul we bring our passion to creating a memorial event that captures that essence of a person. Were they a gentle soul? Were they the life and soul of the party?
About Us